Fast Shootin
on
October 7, 2015
at
9:35 am
Here is the latest page to the "Howling Moon" werewolf story being slowly posted here.  This story is approaching its epic conclusion!
Credits:
Page conceived & penciled by: Dave Jackson
Colored By: Ross Curtis
Dialog written by: Doug Curtis
Digital Inking by: Mark Poe
Lettering and edits by: Lou Graziani
---
Last weekend I helped put together and participate in 2015 24 Hour Comics Day.
It was a great time and I got to meet some talented folks.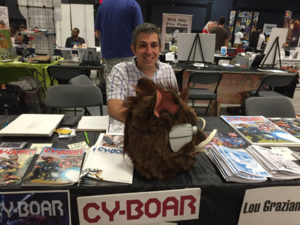 ---
Cy-Boar and the other characters on this site are available on your mobile device!  Click the links on the right to Drive Thru Comics or to Comixology!  You can read the adventure twenty thousand feet up in an Airplane or from the comfort of your own porcelain throne!